Battlestar Galactica Online - Game Update 20 - So strafe we all!
18 September 2013
This update will contain changes to the new flight controls, smaller features and bugfixes.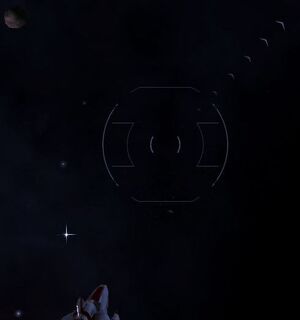 Pilots,
We made some further adjustments to make our new flight controls more interesting and competitive, mostly for those of you who are still indecisive and gave their good feedback across all boards! Those changes involve the following:
When using the CAMS module it is now possible to accumulate avoidance through strafing, based on the strafing speed
When using the CAMS module it is now possible to strafe while using the RCS Slide
Based on the feedback of those players already using the new flight controls we have also adjusted the UI a little. See picture:
Added avoidance to strafing
Added possibility to strafe while sliding
To improve our Top Gun Tournaments furthermore and to promote the everyone versus everyone idea we restricted wing chat from Hades
Dradis ContactEdit
Changed the button display from "DRADIS CONTACT!" to "Dradis Contact"
Changed the description of the map part jackpot
Interdiction MissionEdit
Added a warning message to inform players that all map parts will be lost when abandoning the mission
Added "Field Rescue / Field Repair" to the names of the Raptor / Raider in one of the waves to make his role in this wave more obvious and the encounter easier
Added ship icons for Daru Mozu and Hitei Kan in Alpha Ceti
Fixed an issue where it was not possible to close the Top Gun layer after a tournament
Fixed an issue where it was not possible to bind the wing roster (default: B) to one of those keys: Escape, Control, Shift, Windows Key
Fixed an issue where the Marauder kill count was displayed using its code name
Fixed an issue where damage numbers overlapped when targeting a missile
Fixed an issue where the mouse movement indicator was visible when using the orbit cam (CAMS)
Fixed an issue where it was not possible to switch to orbit cam when hovering and clicking in the assignment area of the UI (CAMS)
Fixed an issue with the NPC dialogue when trying to turn in 0 water
Fixed a description error in the unidentified object's tooltip
Fixed issue with text overlapping / running out of frames
Ad blocker interference detected!
Wikia is a free-to-use site that makes money from advertising. We have a modified experience for viewers using ad blockers

Wikia is not accessible if you've made further modifications. Remove the custom ad blocker rule(s) and the page will load as expected.