Battlestar Galactica Online - Game Update 19 - Come fly with me!
9 September 2013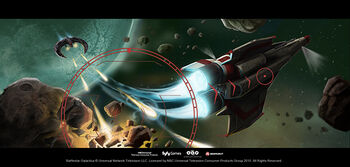 This update will contain our new Flight controls for strike class ships and some adjustments to our new weapons.
Pilots,
Brace yourselves for one of the biggest changes in BSGO history. Get ready for an overwhelming new feel in your game: A more agile, more dynamic and more exciting way to experience dog fighting in a strike vessel.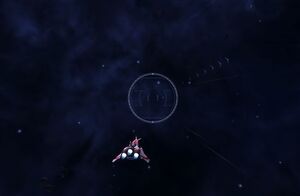 With this Game Update we're introducing: Our new flight controls!
So hop into your ship, undock and get a taste of a brand new Battlestar feel, with our new mouse-based controls.
We also implemented two new systems to switch between the "Classic Controls" and the "New Advanced Controls" – just look in your hold for the Combat Avionics Maneuvering System (CAMS) and its Basic version (BAMS).
See their icons here:

Get more information in our recent DEV Blog here: Dev Blog 8
Furthermore we made necessary changes to the newly implemented weapons, available as special rewards from our new interdiction missions:
Fixed the bug where medium range weapons had the short range cooldown
Fixed the bug where light missile launcher didn't have the medium range values
Rounded the durability values up/down
To make the weapons more interesting in lower upgrade level ranges we adjusted the progression of optimal range for guns and range for missile launchers to be more linear and raised the range slightly overall
Increased the values for min and max damage slightly
Introducing our new Flight Controls
Made changes to the new weapons from the reward table interdiction mission
Implemented the option to activate and deactivate enemy and friendly brackets in our options menu
Removed the undock cooldown after repairing or changing ships when docked anywhere except outposts
Fixed the issue where cubits won during the Dradis game where put into hold instead of locker
Fixed the issue where it wasn't possible to use a Divine Inspiration during Double XP events
Ad blocker interference detected!
Wikia is a free-to-use site that makes money from advertising. We have a modified experience for viewers using ad blockers

Wikia is not accessible if you've made further modifications. Remove the custom ad blocker rule(s) and the page will load as expected.