Revenant Drone
Map Icon

Avatar

Ship Info
Class

Drone

Size

Light

Ship Stats
Level

90

Hull Points

2950

Power

100

Speed

55
The Revenant is a rogue Drone class Raider NPC that is unique in that it is the only NPC capable of firing Nuclear Warheads. It is rare to locate as it has no set location and rarely spawns making it difficult to find.
Killing the Revenant will count towards the Drone Clearance assignment and reward players with rare loot such as Merits, Tuning Kits and Nuclear Warheads.
The Revenant NPC was added in-game unannounced in Game Update 08 - Second Anniversary! on the 15th of May 2013. It was then officially announced via the teaser post on Facebook 2 days later.
Facebook Promo
Edit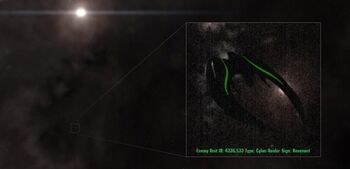 "Pilots,
Urgent message from our intelligence!
We encountered an unknown enemy craft! See recon picture below, please excuse the quality.
Important: Proceed with extreme caution! This enemy - call sign: "Revenant" - seems to be very dangerous, try not to approach him alone!" - Facebook
Ad blocker interference detected!
Wikia is a free-to-use site that makes money from advertising. We have a modified experience for viewers using ad blockers

Wikia is not accessible if you've made further modifications. Remove the custom ad blocker rule(s) and the page will load as expected.